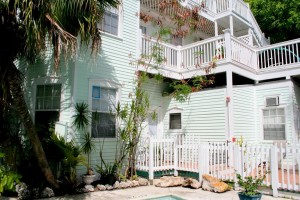 Formerly the Walton House, Casablanca was built in 1898.  Its architecture and construction reveal an elegance of an earlier age.  You find yourself surrounded with a 19th century charm that world renowned literary figures like George Bernard Shaw, William Butler Yates and James Joyce enjoyed.  In 1931 Irish Patriot Patrick James Kehoe stayed at the Casablanca and in 1937 Humphrey Bogart was an honored guest of the Waltons.  During his stay Bogie frequently dined in what is now known as the courtyard restaurant with Ernest Hemingway.  In recognition of Bogart, the cafe, hotel and pub were renamed in his honor. In 1989 the property was bought by a young Irish Couple and the beautiful Hotel Casablanca was born.
Today this tropical hotel incorporates two of Key West's magnificent historic buildings.  A delightful inner brick courtyard surrounded by tropical plants and trees creates a tranquil atmosphere and a true island experience.  Its architecture and solid construction reveal a quality of an earlier age.  Centrally located on famous Duval Street in the heart of Old Towne Key West, Casablanca is next to The Hemingway House and it's also within walking distance to all there is to see and do in this historic town.
Casablanca offers large, airy rooms and suites which have hardwood floors; private bathrooms, televisions, air conditioning and all have private balconies.  The swimming pool has a private sun deck and it has its very own Restaurant and Irish pub.  Casablanca is close to all that Key West has to offer- beaches, shops, watersports, restaurants and nightlife without sacrificing the pleasure of a quiet ambiance.
Our front desk personnel will be happy to assist you with all your vacation needs such as finding local restaurants or scheduling a day out on the water!
The
Flash Player
and a browser with Javascript support are needed.